Are you preparing your research paper to be presented at an International conference? Here you will get all details of the Presenting your research work in front of peers at an International conference. We will discuss How to prepare paper presentation for a conference.
The conference is an important aspect of the research and evaluation process. Choosing the main point you want to convey to your audience is the first stage in preparing to present your paper.
You won't have enough time to convey all the specifics of your work because most conference presentations last between 10 and 20 minutes. Your presentation's goal should be to pique audience's attention rather than to completely describe your work.
You must first keep in mind that you are "presenting" when on stage. I've attended a tonne of conferences and conventions where speakers with fifty times my intelligence had the stage presence of wet cardboard. Although you are capable of reading the 100 slides yourself, they insist on reading each one of them to you in a monotone. They run out of time for questions, which is fortunate because, after the first fifteen minutes, the majority of the crowd actually or figuratively left.
Tips for Creating Presentation Slides
Keep in mind that your slides don't have to provide a whole narrative. Slides should demonstrate rather than fully describe your work:
When feasible, use graphics. Instead of using whole sentences, limit information to phrases and bullet points.
After creating your slides, practise giving your talk while recording yourself to help you spot any areas that need improvement.
Keep to your allotted time and provide enough time for audience queries.
Talk about the research problem first
What issue has to be examined?
Why should we care about finding solutions to the issues covered here?
What should we anticipate discovering?
You can now begin to discuss the specific study and approach to the research paper you are presenting online or in person, whether it is a theoretical (or econometric) paper or an overview of methodologies, framework, and model; focus on the important conclusions. After describing the fundamental problem in question.
Build your presentation to fit the time allotted.
When giving a presentation at a conference, proper timing is crucial. Prepare ten minutes' worth of information if you have ten minutes to deliver. I'm done. The most crucial part—your observations and recommendations—may not be highlighted if you don't practise your timing.
As far as I've seen, conference planners are often very clear about how much time you've been given. The best presenters are aware of the amount of time they have available, adjust their presentation accordingly, and monitor the clock the entire time.
Additionally, if your time is running out, pause. If you have one more point to make, skip a few slides.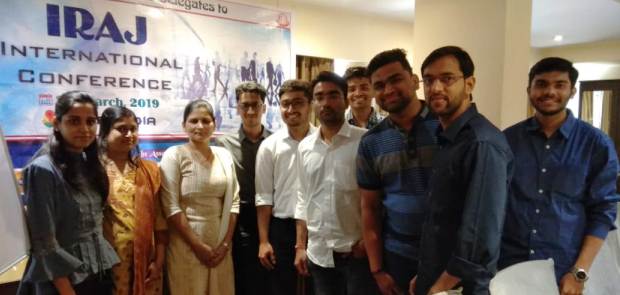 Keep your presentation slides precise and to the point
If you need to make a point that is difficult to communicate visually or if you are discussing steps or sequences, don't be afraid to include some text and bullet points.
But rather than using them as a suggestion for what you want to say, utilise them to make your argument clear to the audience. Your speaker notes serve this purpose. Less is more when it comes to the content on the slides since you want your audience to listen to you rather than reading from them.
Although modest, slide uniformity can quickly detract from a presentation. While colourful presentations might appear good, your audience might find them distracting.
Make sure to include, among other things, clear definitions, and descriptions of pertinent data.
Attending conferences
After making all the preparation its now time to attend the conference. Before going to any physical conference always collect the important documents like
Conference Schedule
Conference Timing and speaker's details
Paper presentation technical session and Break times.
Attend conferences to remain up to date and test out new work. Additionally, you can connect with others in your area of study. Giving presentations at conferences has the extra advantage of personalising your work and giving it a voice.
Before attempting to publish in journals or other kinds of academic publishing, you can use it to gauge how well your work is received and then utilise the comments to improve it.
Top 5 tips to prepare paper presentation for conference
Here are the top 5 tips that will help you to prepare your conference presentation well.
Find good and reputed conference organizers.
Always search the conferences near to the city you live in or the city you always wanted to visit.
Always check the author's guidelines to prepare your paper and presentation.
Keep the slides simple in design and do not put too much content.
Always prepare the presentation in English only for international conferences.
Must read: How to participate in International Conferences?
Conclusions
So we hope you liked today's article on how to prepare a paper presentation for a conference.